Target new business, attract loyal customers.
New customers are moving into your trading area, literally every day. Our business is to turn those new movers into your loyal customers. Our proven, turn-key system does just that. In 18 years of direct marketing, we have learned what it takes to change customer behavior. After all, our goal is to help you capture a new customer for life. Our direct mail pieces present your business in a professional manner and induce the new residents to act in a way that benefits all parties. We seek out the freshest data and mail 52x per year. This puts your offer in front of qualified new residents up to 57 days before the competition. New residents spend at up to 6x their normal rate for about their first 100 days of new residency. Capture this market now and turn them into lifelong customers. Here's how
Just one easy step!
We'll give you hard data in less than 12 hours.

Provide a little information about your business.

Receive new resident data for your market, fast.

It's one low affordable price per piece mailed.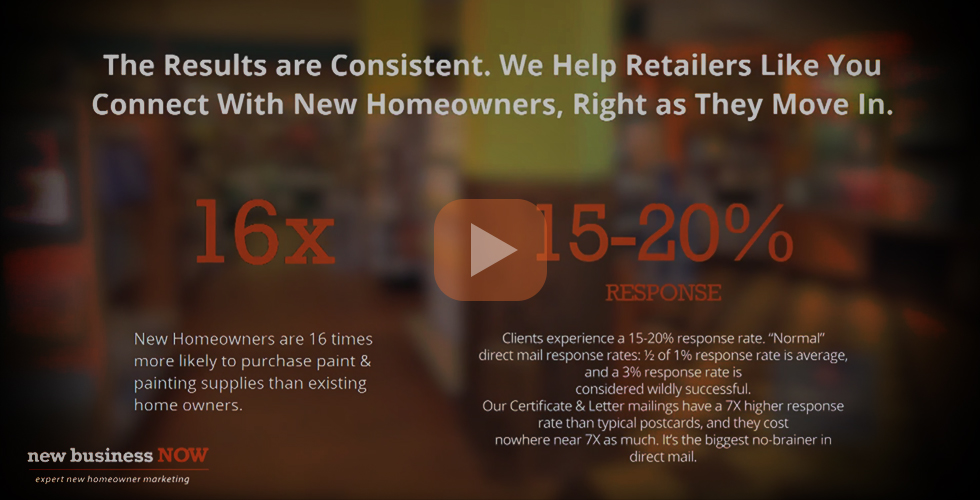 ---
The singular focus of our business is finding new customers for your business.
New movers often spend as much as $10,000 to get their new place and their new life situation exactly the way they want it. Want them to spend some of it with you?
Below are the percentages of what new residents spend their money on, when they move in.
Professional / Finance
Home Service
---
Why Our System Works
Some Key Elements of Our Time-Tested Mailers
Our mailers are scientifically engineered, time tested systems that guarantee results. Through years of targeting this market, we have figured out how to optimize open, exposure, and response rates, to give you the highest possible return on investment.
Unique Approach - We do all the Work
Our Streamlined Process:
As a turn key marketing company, we market to new residents right as they move in, and you don't have to do any of the work. We take care of every step of the process for you. No one else in the industry offers this full package. Start Today!

Develop your new residents offer.

Draft personalized copy to accompany your offer.

Submit copy & artwork for your approval.

Mail your offer weekly or monthly to prime new residents in your trading area.
---
Testimonials
Multi-State Retailer

"We've tried it all... TV, Cable TV, Radio and Print... this program has been the most successful in delivering new customers to our stores."